Nkosazana Daughter News, Health, Sick, What Happened To The Amapiano Artist?
What Happened To Nkosazana Daughter? Nkosazana Daughter Confirms She's Hospitalised.
In recent times, South African songstress Nkosazanah Nolwazi Kimberly better known as Nkosazana Daughter has been on the mind of many, and in fact loved by many including us at Fakaza2022 Org.
Earlier in 2022, she revealed that she has been hospitalized after days of complaining about her ill health.
In December 2022, a lot of her followers are still interested to know the status of her health and how she is.
Well, that got us interested as we are certain there is no new news about the female artist, however to clear the doubts, we have shared more news what has been happening in the life of the female artist in the year 2022 to 2023.
Early 2022, What Happened To Nkosazana Daughter?
After releasing "Umama Akekho", the 'Dali Nguwe' crooner shared some images of herself in a hospital, where she said 'It's bad,' with an IV fluid drip connected to her hand.
This followed by people asking about her, and she followed up her post by adding more text that read, "I am not feeling well, I'll get back to everyone soon."
As at the time, it was not certain which hospital or the reasons for which she was taken to the hospital.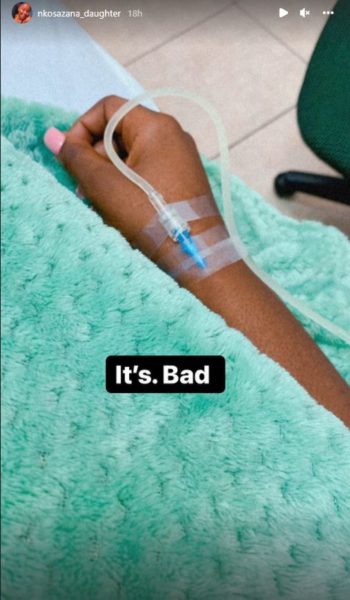 The female amapiano crooner, Nkosazana Daughter has been gaining a lot of attention in the last few months and she has been working with a number of important and talented artists in the amapiano music industry.
Just within 2021 and 2022, she had worked closely with the likes of Kabza De Small and DJ Maphorisa aka Scorpion Kings, Tyler ICU, Soa Mattrix and Nevigkeys.
Nkosazana is also the voice behind 'Sbindi Uyangbulala' by Prince Kaybee as well as her popular hit track, 'Umama Akekho' by Soa mattrix, DJ Maphorisa & Mas Musiq. Th song currently has over 3 million views on YouTube.
Mid 2022, What Happened To Nkosazana Daughter?
There was no news out of place except for the rumor of Nkosazana Daughter dating Sir Trill who is also another South African amapiano artist. It was alleged that Sir Trill cheated on his girlfriend with the amapiano crooner Nkosazana Daughter, but some was rather suggesting that she has been the one whom Sir Trill has been dating.
Asides the rumor, she has been a normal amapiano artist who has been into her music. She dropped a new music video for a song she did with the Wanitwa Mos boss, Master KG, 'Dali Nguwe'. The song video has passed 2 million views within 14 days on being hosted on Youtube.
She also dropped "Sofa Silahlane" with other artists in May 2022.
News About Nosazana Daughter In 2022 December
Towards, the end of 2022, we have not heard much about the female amapiano crooner, xcept on December 6th she revealed that the Sofa silahlane Remix has been released.
Also, there was an alleged rumour that Nkosazana was pregnant with a baby, and Sir Trill was responsible. This is a rumour which the duo has not confirmed nor denied.
| | |
| --- | --- |
| Who is Nkosazana Daughter | South African Amapiano Singer |
| Age | Born: 2000, 22 Years old |
| Net Worth | =$200,000 |
| Gender | Female |
| Relationship / Boyfriend | Allegedly dating Sir Tril |
Keep visiting Fakaza, and stay tuned for more South African news, music etc, also check out your favorite celebrity and artists biography, amapiano updates, trending videos, new music, latest albums, and South African entertainment news.